I'm sure this story sounds familiar to you: Every year, I make resolutions and go crazy throughout the month of January to keep up with them (or just pin a million things to a "Get Fit" board with plans to do all of those workout routines and make every smoothie I could ever find). Then February hits, I get
lazy
busy
, and somehow end up throwing all of those resolutions out the window. From what I've been reading on other blogs, this is a common situation.
So I am hoping this year that by
putting it in writing
, my resolutions may actually happen! And if I start slacking, you guys can call me out on it.. deal? I'm even participating in
two
linky parties to increase my chances of keeping up with my resolutions (makes sense.. right?).
I'm linking up with
Amanda
over at
Teaching Maddeness
for her
Resolution Solution Linky Party.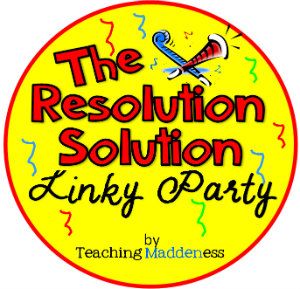 And I'm also linking up with
Diane
from
Teaching with Moxie
for her
What is Your 2013 New Year's Classroom Resolution Linky Party.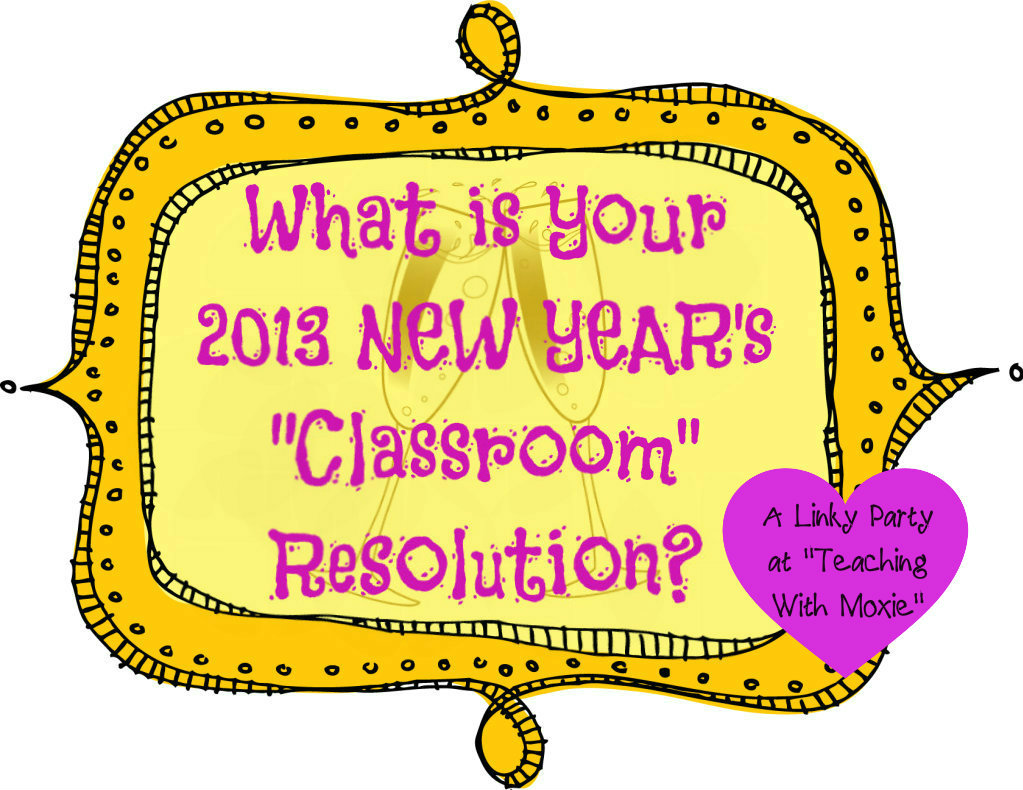 My classroom resolutions are:
1. Get my lesson plans/materials ready BEFORE the weekend!
Now let me preface this with saying that I
am
an organized person (sometimes OCD) & I
need
love to plan & be prepared. However, I am notorious for completing my
written
lesson plans Sunday night (and even on Monday during my prep, eeek!). I just find them so tedious and they take time away from getting my materials ready. Therefore, I end up procrastinating and ultimately wasting more time. This is why I need to just bite the bullet, get them done
before
Friday, and have Sunday to organize materials, do some blog hopping, and possibly even.. dare I say.. relax? A girl can dream..
2. Get to work earlier.
I make a similar resolution every year. I am a serial snooze button abuser and literally wake up every morning at the latest possible minute that gives me
just enough
time to get ready & scoot out the door. I constantly say that I hate rushing and wish I had time to leisurely get myself ready in the morning, maybe eat breakfast at home (rather than in my car) and get to work earlier to get myself ready for the day ahead. And
every year
, it is a
MAJOR FAIL
. I may wake up early the first day or 2 after winter break, and then I'm right back in my same routine. Anyone have any tips?? This will probably be my most challenging resolution.
My personal resolutions are:
1. READ
My whooole life, I have always
loved
reading. I would read almost every night before bed and finish books rather quickly. Besides
all
of the
50 Shades of Grey
books (I couldn't put those down!!), I can't remember the last time I've read books consistently. I am even backed up on my
Cosmo magazine
subscription! (There are 2 sitting on my end table that haven't been touched.. Which is almost unheard of.) So I'm reeeally hoping to read all of the great books I bought over the summer, with the intention to read
during
the summer (which was another fail).
2. Go to the gym.
Every year, I also say I'm going to lose weight, exercise more, diet,
yadda, yadda, yadda
. Last year, I did a pretty good job of eating healthier & even joined a gym to stay in shape. However, once school started back up this September, I completely lost all motivation to go to the gym. This school year has been very hectic and busy and the gym was honestly the least of my worries. But I do feel better (mentally & physically) when I go to the gym, so I need to make an effort to find time to go (especially since I'm paying for it and not using it.. which is something I always said I would
not
do!). So
fingers crossed
on this one!
3. Blog more & create more products!
I
really
hope I keep up with this resolution! I definitely slacked on my blog & my TPT/TN store when school started. It was really easy to keep up with everything during the summer (duh), but once school started, I just couldn't find the time. Thankfully, lately I have been creating more resources so I'm really hoping it continues! Please kick my butt if I go MIA again! Thanks =)
So there you have it! I have written them down, shared them with all of you & I'm hoping to stick to it! What are some of your resolutions? Head on over to one of the blogs above (or both!) and link up! =)